Many innovative chairs that came before and after WWII remain relevant in terms of design, like the Eames Lounge Chair and Womb Chair. If you're a fan of mid-century modern furniture, you probably have one of your favorites at home or in the office, but have you considered some of these other mid-century modern chairs?
Here are a few of our favorite mid-century modern chairs featured in our store. If you are an Eames Lounge Chair fan, then you are sure to fall in love.
From bending plywood to experimenting with new materials, designers such as Charles and Ray Eames, Jacobsen, Marcel Breuer, and Eero Saarinen were making do with what they had during times of rationing and limited materials availability. Even in these circumstances, they produced ground-breaking masterpieces that remain relevant over 60 years later.
Womb Chair by Eero Saarinen
The story behind the design the Womb Chair by Eero Saarinen claims that Eero Saarinen designed it after Florence Knoll asked him for "a chair that was like a basket full of pillows – something she could really curl up in."
The Womb Chair, designed in 1946, was one of the first chairs in the whole mid-century modern movement that took on the organic form.
Wassily Chair by Marcel Breuer
Originally designed and produced in 1925, the Wassily Chair by Marcel Breuer is the first chair to use tubular steel. The original idea behind this chair was inspired by the Adler bicycles structure.

LC2 Chair by Le Corbusier, Pierre Jeanneret, and Charlotte Perriand
Released in 1928, The LC2 Chair and its bigger sister, the LC3 chair, were designed with the idea of being "cushion baskets" of comfort and style.
Barcelona Chair by Ludwig Mies van der Rohe
The Barcelona Chair was designed in 1929 for Mies van der Rohe's German Pavilion at the International Exhibition in Barcelona, hence the name. This beautiful and elegant chair is also available in different variations such as an ottoman, sofa, and even a loveseat!
Molded Plywood Lounge Chair by Charles and Ray Eames
The Eames Molded Plywood Lounge Chair has a positively innovative technique of manipulating plywood beyond its natural shapes, a favorite for the Eames couple. The result was a lounge chair where form follows function with beautiful results and precursor to the iconic Eames Lounge Chair.
RAR Molded Plastic Rocker by Charles and Ray Eames
First designed in 1948, these rocking chairs were made using fiberglass. This material changed for a more eco-friendly polypropylene. The RAR name comes from Rocking Armchair Rod Base and is one of the most well-known designs by Charles and Ray Eames.

Bertoia Diamond Chair by Harry Bertoia
Diamond Bertoia chairs are here to stay forever. Just like the Eames Chairs, the Diamond Chair is available in several variations. There's a Bertoia Diamond Chair for every room in your home.
Eames Molded Plastic Side Chair by Charles and Ray Eames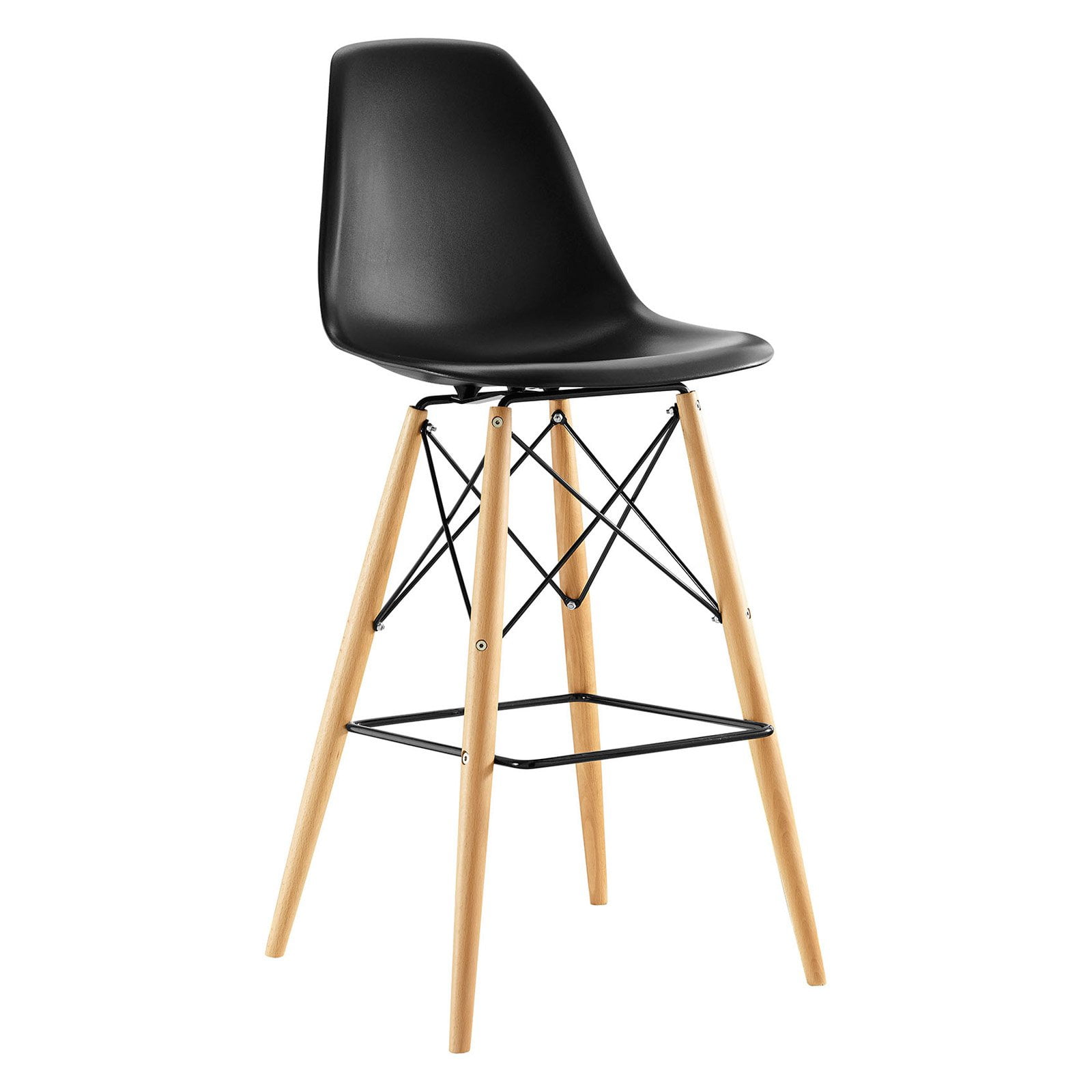 This iconic chair was released in 1948, yet the version with wooden dowel legs was only released two years later. This chair drastically changed the world and became incredibly popular.
There are several different versions of this chair available: with wooden dowel legs, Eiffel legs, simple metal legs, and armchair. But the simplest version is the armless side chair one.
Series 7 Chair by Arne Jacobsen
Like mid-century modern designers, Arne Jacobsen was an architect known for designing down to every last detail; this included statement-making chairs like the Series 7, designed to offer maximum comfort.

Egg Chair Arne Jacobsen
Do not to be confused with the Egg Chair designed by Saarinen. Jacobsen designed this Egg Chair for the lobby and reception areas of the SAS Royal Hotel in Copenhagen. This design sprang from a new technique, which Jacobsen became famous four, using a sturdy foam inner shell beneath the upholstery.
Swan Chair by Arne Jacobsen
Can you tell we love Jacobsen yet? That has a lot to do with the fact that Arne Jacobsen also designed one of our best sellers, the Swan Chair. This chair was designed specifically to complement his Egg Chairs in the hotel lobby we stated above.
Now that you've discovered these Mid-century Chairs, it's your turn to take action and order the ones that stole your heart in our store. Choose from variations in plywood veneers, leather upholstery, sizes, and colors to perfectly fit your home!