It's no secret to anyone that poorly designed office chairs can encourage bad posture, leading to neck and back problems. And yes, ergonomically designed desk chairs may help support us at work, but how can we keep ourselves healthy when we're relaxing at home? The answer rests within your feet – pun intended.
The goal behind ergonomics is to design and arrange things so that they can be used easily and safely. It's a term that has been grounded more in commercial design, devoting more attention to efficient and supportive desk chairs and workstations. While office uses have increased in the ergonomic spotlight, residential design has received less focus, especially when it comes to seating. 
Sitting in a comfy chair and putting your feet up is a way of relaxing after a hard workday for as long as we can remember. Unlike with an adaptable work chair, one of the hurdles of home seating is that they are typically shared among those that live in one space. We come in all shapes and sizes, so it's unlikely that the scale of your homes' major seating piece is suitably sized for everyone, or is adjustable like an office chair. Imagine a petite person immersed in an overstuffed sofa with their legs dangling off the edge of the cushion. It's not just unhealthy, but it doesn't look good either. Of course, a specific sofa for each family member is likely out of the question yet fear not because other seating pieces can provide a better fit.
One of the tenets of good ergonomic design is foot support; a lack of it puts stress on pressure points behind the knees and backs of the legs when they are left dangling. Sitting forward to compensate leaves the back without the needed support and encourages slouching. 
Leaning backward, on the other hand, can release spinal pressure and help relax the muscles. Elevating your legs helps make it easier to lean back. At the same time, this brings the legs up closer to the heart, helping relieve leg edema and foot swelling, and to lower your heart rate. 
Here are three great ways to put your feet up.
Lounge Chair and Ottoman
Suitably named, the Eames Lounge Chair supports lounging! Paired with an ottoman, it allows you to put your feet up while easily adjusting the ottoman to accommodate to your height. The lounge chair and ottoman duo offer flexibility that single pieces, such as recliners, cannot.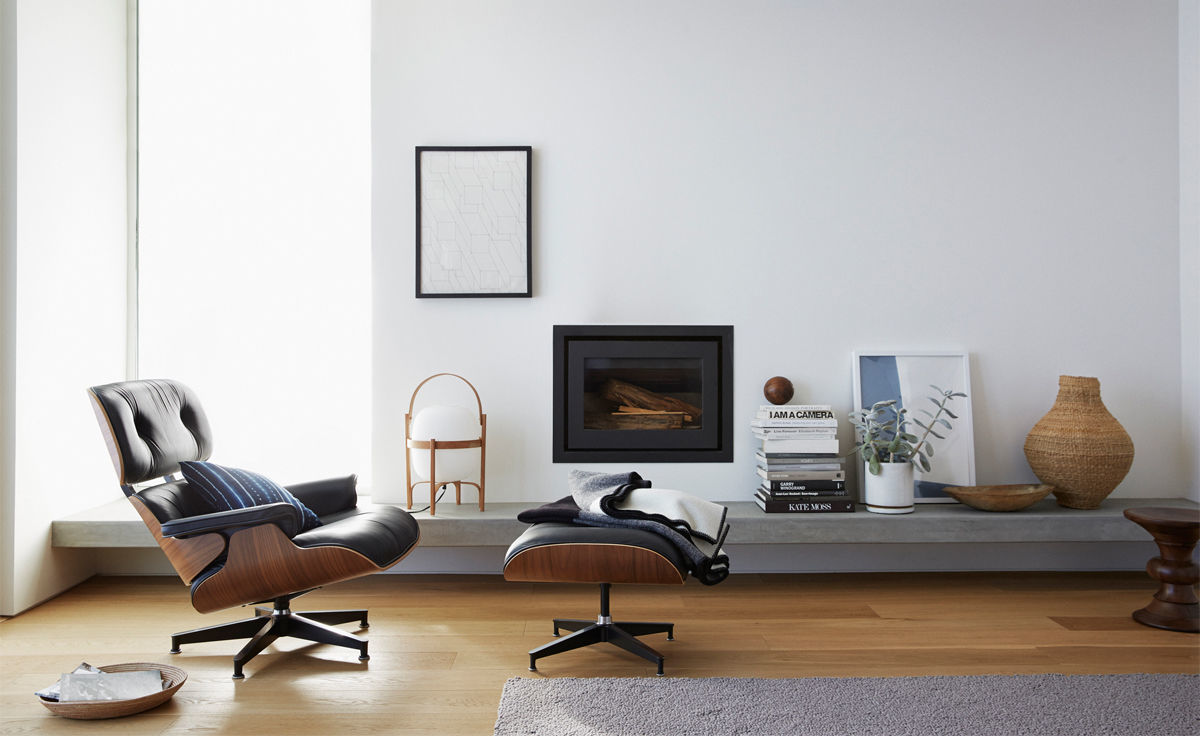 The downside is that lounge chairs also tend to be on the larger side, and paired with an ottoman can command a lot of square footage. But you can still have one in a tiny home. 
However, if you don't want a Lounge Chair in your small home, a well-designed armchair and ottoman will do. We recommend the Womb Chair and Ottoman. 
Recliner
"Recliner" to most people incites thoughts towards to Martin Crane's duct-tape-clad orange and gold textured piece on Frasier. However, not all recliners sport the big side footrest lever or fall into the "hideous" category. They're also a comfortable alternative to a lounge chair if you don't have space for the pair when the chair isn't in use.
Recliners offer head support and have an adjustable back. You're also sure to find some in gorgeous trendy designs.
Chaise Longue
Having no internal mechanisms, a chaise longue is a more simplistic approach to reclined seating. Although this chaise form gently follows the S-shaped curve of the spine, make sure the one you purchase is ergonomically focused. 
But being ergonomic is more than just a chair, it's also about the user. Keep in mind that the main problem with reclining seats is when we have to lean forward. As long as the piece is being used appropriately, there's no reason you shouldn't be able to have your laptop while sitting in a lounge chair. 
Which chair would you prefer? Is there one that you find the best fitting for relaxation and comfort as well as health and well-being?