So many of us get tied in knots when it comes to designing our homes. "I love that piece, but it's way too big for my room." "My new lamp has to be silver because my coffee table is silver."
So many rules can take all the joy out of what should be a fun, inspiring and even improvised process. 
So how do we know which rules to follow and which rules to break? We'll be setting the record straight about the guidelines, and will suggest which to pay attention to and which to ignore.
Color
Out of the thousands of design rules related to color, probably 99 percent are completely bogus. For example, a common statement is that a room painted in a dark color will feel smaller. This implies that there is something wrong with small rooms, and it ignores the fact that dark colors bring great warmth, interest and even color to a room.
Creating a contrast between a dark wall and a light ceiling produces a pleasing feeling of height.
Speaking of ceilings, ever hear the rule is about painting ceilings? Well, there is no rule.
For a room with a soaring ceiling, it needs to be a color much lighter than the walls. If you are doing the paint yourself and clean lines aren't your forte, paint your walls and ceiling the same color. That will give your room a cozy, intimate atmosphere. 
You can forget that rule about the colors needed to match. Whoever came up with this rule, certainly didn't do it from observing nature. Have you ever seen all the pinks, reds, oranges and purples in a single rose? 
What about the rules of the color wheel? Primary colors, secondary colors and tertiary colors can make anyone's head swim. Talk about taking all the fun out of decorating!
The color wheel was developed in the 18th century by painters, for painters. It was never meant for our homes.
Consider that rooms where the palette was chosen from the color wheel, almost always feel studied. Rooms like the one above take a much freer, organic approach, using color nature's way. Rejoice in that natural color approach!
If you want a rule for how to work with color, simply take notes from nature.
One more thing about the color wheel, look at the comfy chocolate color on these walls. Now, did you know that brown doesn't appear on the color wheel? Enough said.
Style
How often have you been told that if you use two sofas in a room, they must be identical? A difficult rule to follow for those who shop thrift and consignment stores.
Add this rule to the "Ignore Me" folder. If you want to take the mixed-sofa approach, where the sofas differ in both style and color, use other elements to tie them together. Look at the colors in the carpet and other decor pieces, and see how they are replicated in the sofas. Throw pillows can each feature the opposing sofa's color.
This holds together the room and doubles the chances of family and guests finding a seat that will comfortably fit them. 
There is a widespread belief that to achieve a good design, you must retain a consistent style in your room's furnishings. Honestly, we're not fans of the word "must," especially when it comes to how we do our homes. 
Imagine a living room like the one above that mixes furniture styles and colors. A Mid-century Modern Eames Lounge Chair that becomes a focal point but at the same time, blends in with the rest. 
When all of the furniture in a room is the same style, it creates a sterile and uninteresting aura. Compare that to the dining room shown above, which welcomes you to sit down and have a glass of wine. The table is casual contemporary, the host chairs are midcentury, and the side chairs are woven and worn. Flush the consistent-style rule down the drain.
Does your interior decoration style need to match your home's architecture style? Of course not. You can have a Tuscany and stone farmhouse home, and freshen it up with a contemporary table and chairs.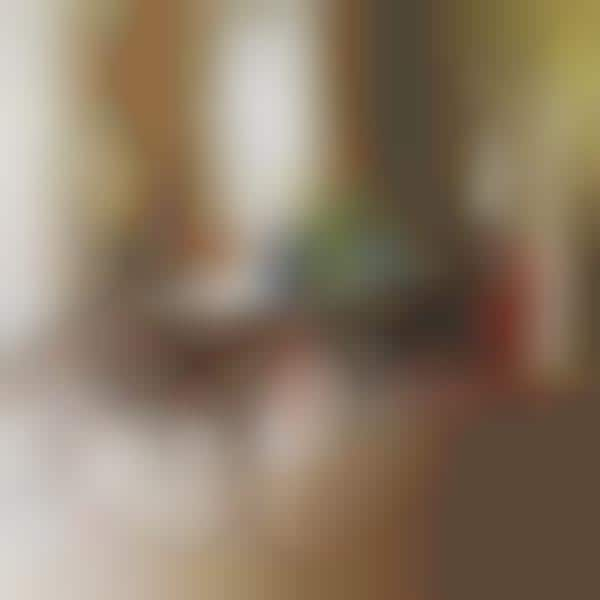 Mixing it up is the only design rule that we believe should not be broken. Mixing styles, colors, patterns, textures, finishes, scales and even shapes will give your home warmth, interest, and a confident, welcoming feel. 
So mixing is a good thing, right? Absolutely — and not just in style. Consider mixing your metal finishes, too. A room with a neutral palette but mixed metals creates great interest.
Try this: In your mind's eye, change all the pieces from the image above to the same finish. Can you feel what happens to this room? So here's a good rule: Mix your metals.
This room shows a helpful guideline regarding mixing fabrics and patterns. Consider the linear fabric on the curtains, the leafy floral on the sofa, and the animal print on the ottoman. Did you notice that they are all in the same color family? This is a classic approach to mixing fabrics that work in this room. It's also a good starting point for people who are uncertain of mixing patterns but want to try it out.
There are lots more "rules" to address, but for now, we want to end with the rule we honor over all others: If you love it, make it work. After all, your home should tell your stories, mirror your tastes and evoke delightful memories.