Eames Lounge Chairs have an empowering essence that allows them to stand on their own and control any space. But the right combination is everything when it comes to home decor. 
When you decorate or redecorate your home, you need to do more than buy the best furniture you can find. Decorating also requires a careful process of pairing textures, patterns, and colors to create a unique yet attractive style for your home. 
To make this process easier for you, we put together 4 mid-century modern pieces that make an excellent match beside our Eames Lounge Chair replicas. Think of this as a stepping-stone for your home design adventures.
Eames Walnut Stool
What would your main lounge activity be while you rest on your Eames Lounge Chair replica? Will you be unwinding with a drink after a long day at the office? Perhaps you'll be reading one of your favorite books? Maybe even some good old Netflix and chill to take the edge off. 
Whatever it is you do to relax on your Eames Lounge Chair, you need to keep all the essentials handy. The Eames Walnut Stool is an ideal furniture piece to accomplish just that. 
In 1960, Ray Eames was asked to design exclusive pieces to pair with the chairs designed by her husband Charles Eames. Trained as a sculptor, Ray Eames designed the Eames Walnut Stools, which instantly became her favorite seats and were scattered all over the artists' home.
The beauty of these stools is that you can use them anywhere and in almost every imaginable way, making it an excellent side table and accessory to your Eames Lounge Chair.
The Noguchi Table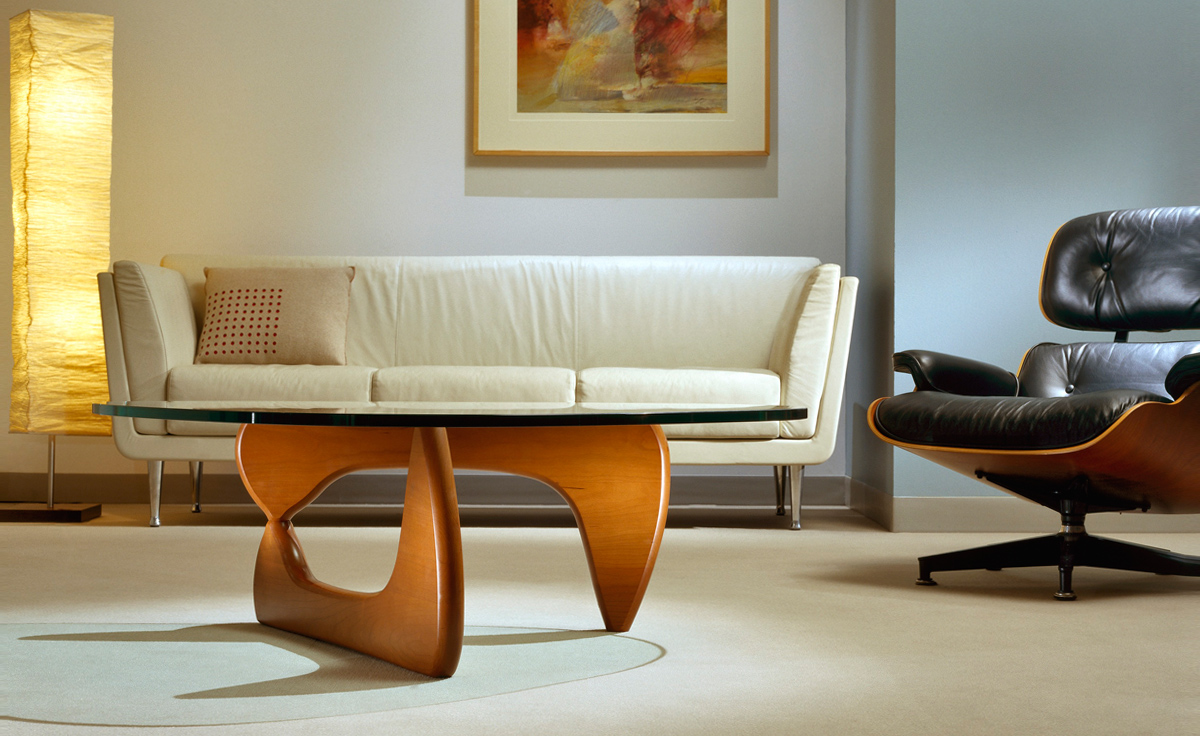 Since we're on the subject of keeping essentials handy, you might think that what you need is a proper table. So here is the one and only, the Isamu Noguchi table.
The Noguchi Table is the perfect blend of art and design and will represent just that when placed along the Eames Lounge Chair. 
This iconic table was designed by Japanese sculptor Isamu Noguchi, joining a curved, wood base with a freeform glass top. Noguchi himself recognized this table as his sole furniture success. So you can imagine this table is no joke when it comes to adding style to your home.
The Arco Floor Lamp
Sometimes, all you want to do is curl up with your favorite book and enjoy a good read under the warm glow of a gorgeous lamp. The Arco Floor Lamp is the ideal piece of furniture of a day like this. 
Separately, the Eames Lounge Chair and the Arco Floor Lamp are distinguishable in any room, merely ask Iron Man. When both pieces are in the same place, it truly is a match made in modern decor heaven. 
The Womb Chair and Ottoman
From Eero Saarinen in 1948, the modern classic known as the Womb Chair sits beside the Eames Lounge Chair with a smoother design. 
As the Eames Lounge Chair, the Womb chair is designed to promote a relaxed sitting posture. Its name came from the chair providing emotional comfort, and a sense of security to anyone who sat on it.
Together these chairs present the ultimate feeling of comfort in any room, giving others the opportunity of sitting in ultimate comfort as you relax in your Eames Lounge Chair.
Are there any other mid-century modern designs that we missed? Would you like to be featured on our website or social media? Send us a photo with your Manhattan Home Design furniture pieces, and we'll make it happen!