With a little research, you'll find many blogs about interior design styles. You'll likely come across with Modern and Mid-century Modern, which are often used interchangeably.
There are countless MCM blogs and forums, and thorough research shows that there is a large portion of people interested in interior design that appreciate the style.
Mid-century modernism is unlike other styles, since it refers to a particular moment, specifically from the late 1940s to the late 1970s. Sometimes modernism is used to refer to a more extensive period, including the 1920s onward.
Why is this style still popular today? What does it have that other styles lack?
Timelessness and a love for nature
Mid-century designers cared for the past, present, and future of humankind. They also considered nature, and were aware that human innovation originates from the artificial. 
They were simultaneously scientists and artists. Their efforts led to many breakthroughs in architecture and arts, and it also helped to shape new ways of living our lives and making use of the objects around us. 
Another reason why mid-century modernism is so popular is because it was given popularity. The term was coined by Cara Greenberg to serve as the title of her book on designers from the 1950s and 60s.
In her book, published in 1984, she introduced many iconic pieces and design practices to the world, and people all over the United States started growing fond of modernist furniture. The term caught on and became an instant classic.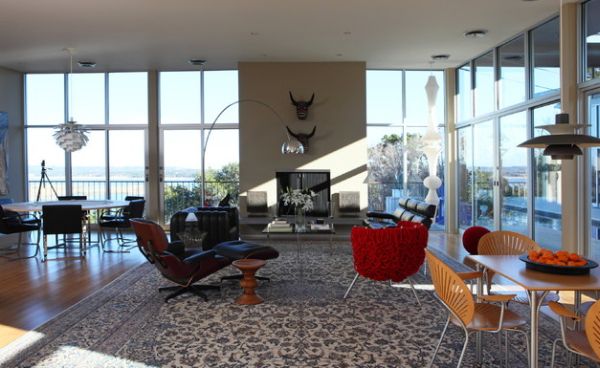 A renaissance that had yet to end
Knoll was the first company to take notice of this trend in the 1990s, inspiring other competitors, such as Herman Miller, to starting selling mid-century furniture. 
During this time, both companies moved on from modernist products into a more contemporary line. These companies were elitist, and their manufacturing of mid-century modern pieces helped most of them become known as items of luxury and class in the late 20th century.
The furniture comeback was well-received among home design enthusiasts, and suddenly, the once forgotten style had become a timeless classic.
Nowadays, an Arco Lamp, a Barcelona chair, or an Eames lounge chair are equivalents of sophistication, wealth, and good taste. 
Like everything in the world of the arts, people give them their worth and meaning. The appearance of the replica market in the late 1990s and 2000s also caused these pieces to become more expensive and sought-after.
Talking about mid-century modern furniture is talking about a productive time for the arts and humanities. The modernist era is the backbone for the world we're living in now, and we must recognize this. 
We are now living in a post-modernist world, and MCM is still going strong as an interior design style and even a way of life.
The mid-century modern style is more than just a home design trend, it's the center of a relevant period in our human history as creators. Do you agree? Let us know what you think!